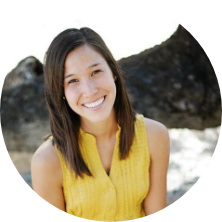 Lynlee Bates
Santa Monica, CA
Recipient of the CSD Department's Spring 2019 Outstanding Professionalism Award
Tell us a little bit about your background and your current career.
After I graduated with my BS in Family and Consumer Sciences with an emphasis in Child Development and Education, I began working at a special education preschool as a substitute teacher/instructional assistant. This is where I learned about speech-language pathology.
In my free time, I was able to volunteer with the SLP on site and learned so much from her. I then completed a speech-language pathologist assistant (SLPA) training program at Chapman University.
After working as an SLPA for a local school district for a year, I knew I wanted to continue my education and pursue my master's in CSD. This is when I learned about NYU Steinhardt's online program, which would allow me to continue working as a SLPA and attend classes.
Upon graduating, I will be starting my Clinical Fellowship Year working for Los Angeles Unified School District.
How has the program prepared you for success as a speech-language pathologist?
This program has challenged me to develop time-management skills, strong assessment and clinical writing skills, and my skills in evidence-based practice by training me to stay up-to-date on current research.
I am committed to lifelong learning, and Speech@NYU has provided me with the support of incredibly wise and gifted professors and instructors who remain current in the field.
Tell us about your interactions with faculty members throughout your time in the program.
Throughout my time in the program I have had the opportunity to learn from incredible professors. This is one of the greatest benefits of attending Speech@NYU. The professors and instructors are experienced speech-language pathologists who are extremely knowledgeable in what they do and passionate about the field.
The on-campus immersions provided us the opportunity to meet the professors in person. They are all very approachable and welcome students' questions and ideas.
How did the Speech@NYU immersion experience and curriculum prepare you for your field placements?
During the immersions we were provided the opportunity to gain hands-on experience and implement what we were learning in class by practicing key skills such as clinical assessment, diagnostic evaluation, mock simulations, language screenings, aphasia treatments, and more. Through this experience we received excellent feedback and the necessary support to further the development of clinical skills.
The curriculum at NYU Steinhardt is up-to-date. The professors are active in the field, and their courses reflect that. The curriculum prepares us professionally for our clinical practicum experiences and academically for the Praxis exam.
What kind of support did you receive throughout your Speech@NYU experience?
One of the strongest advantages of the Speech@NYU program has been the Student Success staff. Student Success is there to answer questions, provide support, and problem solve with students. Additionally, the professors, instructors, and field placement team have all provided great care, support, and excellent advice throughout my time in the program.
What advice do you have for others considering Speech@NYU?
If you are looking for a program that will challenge you to pursue excellence, develop strong research-based clinical skills, and provide you with the opportunity to learn from a diverse group of individuals, this is the program for you. There are so many opportunities for students to grow and become strong speech-language pathologists.
I recommend connecting with other students early on and building relationships with your peers, as you will be each other's support in the later semesters. Additionally, I recommend asking your professors questions about their experiences, taking advantage of the knowledge that you are surrounded by, and learning as much as possible!