Speech@NYU is the online modality of our master of science program, offering the same rigorous curriculum taught on our New York City campus. Accredited by the American Speech-Language-Hearing Association, the Speech@NYU program is designed as an integral extension of the NYU Steinhardt community and represents our commitment to developing highly skilled speech-language pathologists nationwide.
Speech@NYU's curriculum equips you to pursue licensure, certification, and employment as a speech-language pathologist.
Jump to:
Program Course Work
Bilingual Extension Track
Student Experience
Field Placements
Learning Outcomes
Program Course Work
Speech@NYU students take 48 graduate-level credits and attend weekly live classes using our online platform after completing weekly coursework asynchronously (e.g., lecture videos, readings, assignments, etc.). Those who have not yet completed certain undergraduate courses will take an additional 14 foundational credits.
Below is a brief explanation of the courses offered through Speech@NYU. Once enrolled, your plan of study (POS) will outline the order of your courses, as well as any prerequisites you may be required to complete, and your dedicated student success advisor will help you through the registration process.
Foundation courses in phonetics, anatomy and physiology, speech and language development, audiology, and other key topics prepare you for graduate-level study in speech-language pathology.
Instrumentation and research courses teach you how to evaluate the aspects of speech production and how to continually integrate the most up-to-date research into your practice.
Disorder courses expose you to a range of speech, language, communicative, and swallowing related disorders affecting clients of all ages and backgrounds.
Electives allow you to expand your knowledge and skills in specific areas of interest, such as augmentative and alternative communication and working with medically complex children.
Jump to:
Program Course Work
Bilingual Extension Track
Student Experience
Field Placements
Learning Outcomes
Bilingual Extension Track
Support equity and inclusion in your community by gaining expertise with a Bilingual Extension Track (BET), offered by NYU Steinhardt's Department of Communicative Sciences and Disorders. The BET includes course work and clinical experiences required for the New York State Education Department's Teacher for Students with Speech and Language Disabilities-Bilingual Extension (TSSLD-BE) certification. The TSSLD-BE is required by New York State (NYS) for individuals serving pediatric bilingual or multilingual populations, ages 3-21 years, in settings funded by the New York State Education Department (NYSED) including educational contexts, private practices, and some medical establishments.
To fulfill the academic requirements of the degree, students will enroll in one required elective, CSCD-GE 2079: Assessment and Intervention for Multilingual Learners in Communicative Sciences and Disorders (CSD). This elective course does not result in any additional credits beyond the MS degree program without the BET. To fulfill the clinical experience requirements, the BET also requires that students must travel to New York City up to five days a week during one or more of their field placements (i.e. Practicum III-IV and/or V) in order to accrue the required minimum 50 bilingual direct contact hours under the supervision of an NYS licensed and certified bilingual speech-language pathologist (CCC-SLP, TSSLD-BE). Upon graduation, NYU Steinhardt's Department of Communicative Sciences and Disorders recommends students who completed the BET for both their TSSLD and their BE.
In addition to completing the course work and clinical experiences through the BET, graduates of the BET seeking their TSSLD-BE must also obtain a passing score on the Bilingual Education Assessment (BEA), a NYS-managed standardized assessment. The BEA is not facilitated through the BET and is not required for graduation, but it is a NYSED requirement for the TSSLD-BE.
Seats for the BET are limited, and acceptances are determined on a lottery basis after depositing to the MS degree program and submitting the Confirmation of Interest form. Following the deposit deadline for your cohort, you will receive this form via email from Speech@NYU Admissions. Responses are due within 48 hours after the form is sent. Should students not accepted into the BET no longer wish to take part in the MS degree program, NYU Steinhardt will refund their deposit.
Students do not have to be accepted to the BET to be eligible to take course work related to BET, which is available for all MS students. Completing these courses without fulfilling the bilingual clinical experience requirement does not grant eligibility for the NYSED TSSLD-BE. The clinical experience component consisting of 50 bilingual direct contact hours, which requires travel to NYC for Practicum III, IV, and/or V, is only offered to those admitted to the BET. If you are interested in serving multilingual populations in your community, speak with your admissions counselor to learn more today.
Learn More about Speech@NYU
NYU Steinhardt is committed to helping you advance toward your career goals.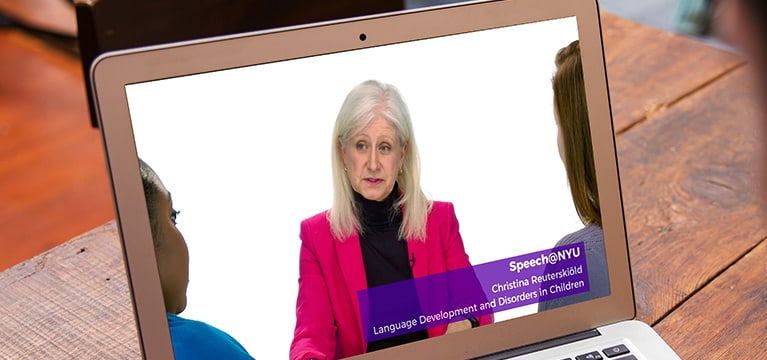 Jump to:
Program Course Work
Bilingual Extension Track
Student Experience
Field Placements
Learning Outcomes
Student Experience
NYU Steinhardt professors in the Department of Communicative Sciences and Disorders (CSD) have designed courses and content exclusively for optimal online learning. Live courses are streamed weekly using video and audio. This unique setup allows for real-time connections with faculty and aspiring speech-language pathologists from across the country. Classes are intentionally kept small and feature capabilities for breakout sessions and face-to-face feedback.
Learn directly from NYU Steinhardt faculty and adjuncts.
Explore and synthesize content through a multicultural lens in small classes prior to engaging in hands-on clinical experiences during the clinical practicum and field sequence.
Receive one-on-one attention during faculty office hours.
The Speech@NYU program was designed exclusively for online learning while honoring NYU Steinhardt's mission to advance creativity, and innovation and commitment to public service.
Faculty-designed, asynchronous content accessible 24/7
Mobile app to reference course work and access your dashboard
Dashboard offering one-click access to upcoming assignments, grades, contacts, and more

Jump to:
Program Course Work
Bilingual Extension Track
Student Experience
Field Placements
Learning Outcomes
Clinical Immersions and Field Placements
Clinical experiences, including field placements, are integral to the Speech@NYU learning experience, and our program ensures you receive the hands-on training you need to become a well-rounded and versatile SLP.
The clinical practicum and field placement sequence consists of five experiences: two immersions and three program-approved field placements. You'll work with a dedicated placement specialist to identify sites in your area that meet NYU Steinhardt's high academic and clinical standards.
Clinical Practicum I: Pre-Clinic and Immersion
Clinical Practicum II: Diagnostic Assessment and Immersion
Clinical Field Placement III: Treatment
Clinical Field Placement IV: Pediatrics
Clinical Field Placement V: Adults
If you have not completed the required number of direct contact hours by the conclusion of Clinical Field Placement V, you may need to complete an additional 1-credit placement, Clinical Field Placement VI.
Ongoing Support as You Earn Your Degree
Speech@NYU students are important members of the NYU Steinhardt community. We offer a variety of resources to connect you to the School and find the support necessary for success.
An academic advisor will help you choose your class schedule and provide ongoing academic support.
A student success advisor will help you register for classes and determine the best path forward for your career.
Our technology support team will introduce you to the online campus and provide live support during classes.
A clinical field placement specialist will help you find diverse, NYU Steinhardt- and faculty-approved placement sites. They will also support you through the field placement sequence.
NYU librarians will show you how to navigate our catalog and access resources that expand on your classroom learning.
Our career services team will assist you with your job search, resume, and interview preparation.
Jump to:
Program Course Work
Bilingual Extension Track
Student Experience
Field Placements
Learning Outcomes
Learning Outcomes
Recognize the nature of speech, language, hearing, communication, and swallowing disorders and their differences, including etiologies and characteristics.
Apply research and principles and methods of prevention, assessment, and intervention for children and adults with communication and swallowing disorders.
Treat and communicate effectively with clients and colleagues from culturally and linguistically diverse backgrounds.
View the full list on our learning outcomes page.
When you've completed all program requirements, you'll be invited to celebrate your accomplishments at our on-campus commencement ceremony in New York City. After graduating, you'll join more than 500,000 NYU graduates around the world as a member of our distinguished alumni community, which offers resources and ongoing support to help you advance your SLP career.
Start your Speech@NYU journey and request information from an admissions counselor today.