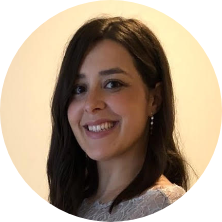 Johanna Stadtmauer
New York, NY
Recipient of the CSD Department's Spring 2019 Award for Academic Excellence
Tell us a little bit about your background and your current career.
I knew I loved working with people and volunteering with children with special needs. Coming from a trilingual home, I loved languages!
I came into the degree wanting to work with children in a multidisciplinary setting and eventually within a private practice. My practicum experiences have shaped my interests to also working with adults in an inpatient rehabilitation setting. The great thing about this degree is that I can eventually do both!
What does earning your master's in speech-language pathology mean to you?
It means advancing my career and getting closer to pursuing a profession full of purpose and meaning. I majored in Communicative Sciences and Disorders in college and after some time off working, I realized how important it was for me to return to school and get my master's degree to be a certified SLP.
I wasn't satisfied with my career and felt the need to challenge myself more. I knew I needed to delve back into my clinical skills and work with people on a deeper level. By accomplishing this milestone, I hope to have opened many doors for myself.
On a personal note, it also means a lot to me as I am lucky to have these opportunities to accomplish higher-level education. As a first-generation American, I am grateful that my parents made a beautiful and comfortable life for my siblings and me. They have taught me that the sky is the limit and that you can make anything happen if you set your mind to it.
How has the program prepared you for success as a speech-language pathologist?
I have seen how the program has prepared me when going into my clinical practicums. For example, the requirement to complete the student training for The Modified Barium Swallow Impairment Profile in our Dysphagia course is such an advantage when we eventually go out into the medical setting.
Each clinical practicum seamlessly builds upon another, and the knowledge and skills we receive is comprehensive. By the time I reached my clinical practicums, I felt prepared for diagnostics and treatment across most of the content areas.
How would you describe your experience collaborating with classmates and attending classes in the online environment?
I think this element has been the most surprising. I wasn't sure it was possible to get close to my classmates in a virtual classroom, but my cohort has been so close. We have study groups outside of class; we text each other for questions; we send each other job opportunities in our areas. I have found a close group of friends within the program. While we can talk about the field and our interests, we are also so much more than classmates.
As for attending the classes in the online environment, it is amazing how technology can mimic the real-life experience. I have given countless presentations online and worked in groups for projects via the breakout room option.
How did the Speech@NYU immersion experience and curriculum prepare you for your field placements?
The Speech@NYU immersions are meticulously planned with fieldwork experiences, workshops, mock evaluations, and seminars. There are certain things that you MUST know when you are out in the field as a graduate clinician, and the immersion experience focused on them.
For example, when it came time to screen a child with few materials during Practicum III, I felt prepared from the immersion fieldwork day. When I had to complete oral motor examinations on adult patients several times a week at my hospital placement, that was ingrained in me from the Practicum I and II courses and immersions. The exercises and instruction that I received during immersion with language, hearing, cognitive, and swallowing screenings had helped better prepare me to work in real-life clinical experiences during my field placement rotations.
What advice do you have for others considering Speech@NYU?
Speech@NYU is a unique experience, and the resources that are offered are all there to make you a successful student. Eventually, this degree will make you a strong and prepared candidate applying for speech-language pathologist jobs in your neighborhood. The Speech@NYU education is rich and identical in quality to the on-campus program.
If you are curious to know if you will make friends and have a network, know that a plethora of opportunities are there for you, and it is about taking them. For example, there are social gatherings every month led by student ambassadors, working groups for those who want to study with peers, social groups for students in certain areas who want to meet up in person, and more! I am so grateful for my experience and time at Speech@NYU.