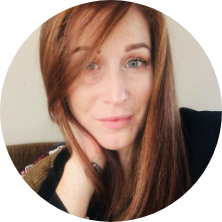 Erin Dotzel
Texas City, TX
Recipient of NYU Steinhardt's 2019 Arch Award
What made you choose the online SLP program with NYU Steinhardt?
I am a Marine Corps veteran, wife to an active-duty Marine, and mother to three children with special needs.
The admissions team sold me on committing to a program that catered to working adults. As a full-time wife and mother, that really spoke to me. Another consideration was the desire to keep our family together while my husband pursued his career with the Marine Corps.
What does this degree in speech-language pathology mean to you?
I thought that I knew a thing or two about teamwork from serving in the Marines – turns out that I had more to learn about working with others to overcome what feels like an insurmountable obstacle.
The Marines were challenging, but this degree pushed me to discover new things about myself that stood in the way of being the best clinician I could be. I have my peers, professors, and supervisors to thank for personal growth and insight.
How will this degree move you closer to your long-term career goals?
This program exposed me to the fact that I knew very little about our profession when I started graduate school, and now I fully grasp what it means to be considered a skilled clinician. I have the foundational knowledge and research capability to change lives by providing evidence-based solutions to persons with communication disorders.
My long-term goal is to pursue a board-certified specialty in child language and become a certified Language Acquisition through Motor Planning (LAMP) clinician using AAC.
How would you describe your experience collaborating with classmates and attending classes in the online environment?
Invaluable. You will come to realize that collaboration is key to this program, and our faculty exposes students to diverse ways of working with others.
One of the most valuable things I can walk away from graduate school knowing is that I'm a better clinician when I sit back and resist the urge to be the leader. There is so much more to gain from listening to the ideas and insights of other skilled minds. When we build on the ideas of others, the work doesn't feel like work at all.
Tell us about your interactions with faculty members throughout your time in the program.
Each interaction with my graduate professors felt very natural. Perhaps it was the acknowledgement that in the end I would be considered a colleague in a close-knit community of professionals that made me feel at ease around professors.
The truth is that it started at the top of the leadership pyramid with the previous program director, Associate Dean Erin Embry, current director, Dr. Kelly Bridges, and Dr. Christina Reuterskiold, who each made every effort to ask questions about personal experiences to ensure that this program aligned with expectations and was the caliber of quality we expected.
What kind of support did you receive throughout your Speech@NYU experience?
Support was continuous throughout my graduate experience, starting with my admissions counselor across the application process and then student success, who offered progress support throughout the program. This was followed by interactions with academic advising, who helped with class schedules, and the field placement team, who helped find placement sites for field training. I also had support from each professor and countless peers.
I took advantage of each interaction and participated in collaboration because I realized that success never rested solely on my shoulders but was supported by a team of professionals determined to see me succeed.
What advice do you have for others considering Speech@NYU?
There is an expression I learned in the Marines: Know yourself and seek self-improvement. This couldn't be truer with this program. You know more than you think you know!
My best advice is to trust the knowledge you are given. There were multiple times when I doubted what I knew and needed a push from others in the program to bolster my confidence. This is not a degree that can be accomplished alone. Lean on others to find success.