How School Clinicians Collaborate to Help Students with Special Needs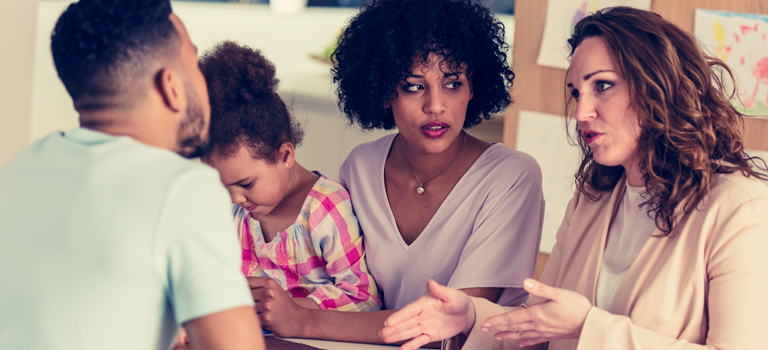 Elementary school sets the foundation for children to become comfortable, competent learners. During these formative years, it's imperative that children — particularly those with special needs — have access to a range of resources.
The Individuals with Disabilities Education Act (IDEA) provides all eligible children with disabilities access to a free, appropriate public education and ensures they receive any additional educational support they may need. To determine what support is needed, the child is assessed by a multidisciplinary team that then determines a plan of action. Generally, a cross-functional team of teachers, school counselors, parents, and clinicians, such as speech-language pathologists (SLPs) and occupational therapists (OTs), work together to develop an Individualized Education Program (IEP) tailored to each child.
How Do School Counselors, SLPs, and OTs Work with Children with Disabilities?
School counselors work with teachers and parents to remove barriers to learning and development. Counselors use academic, attendance, and behavioral data and collaborate with other professionals to identify a child's unique academic and social challenges. During the development of an IEP, counselors often bring in other specialists, including SLPs and OTs, whose unique skills and expertise can help create a comprehensive approach to the child's care.
Speech-language pathologists help children with a variety of speech, communication, and swallowing challenges. These may present themselves in a variety of ways, including slow development of language or literacy, stuttering, speech distortion, or difficulty eating. SLPs work to improve quality of life while reinforcing language, voice, fluency, articulation, and swallowing skills.
Occupational therapists help students with a range of daily activities, helping them learn, grow, and thrive. OTs often work at improving fine motor skills and hand-eye coordination, and reinforcing positive behaviors.
How Do These Professionals Work Together?
The work of these professionals often intersects in school settings, as many of the disorders or disabilities that require support from an SLP also require an OT's services. For example, children with Down syndrome often need support from SLPs to increase coordination of breathing and improve articulation, as well as target syntax and morphology in their language. To better serve these children, an SLP may work with an OT to align skill development in a number of ways, such as integrating handwriting to supplement their verbal communication. An SLP may also work with an OT to set up an optimal classroom environment for the child's physical and hearing needs, and improve social or behavioral issues that may accompany speech disorders.
Typically, a collaboration of this type begins when an SLP recognizes significant sensory or behavioral issues in a child, some of which can often be addressed through occupational therapy. The OT and SLP then consult to consider client-specific goals and ensure they agree on the child's therapy plan. Through this process, they may decide to co-treat, with the SLP integrating certain occupational therapy activities into their sessions with the child, and vice versa.
Through this co-treatment, the child can advance through sensory-rich activities to improve sensory or behavior concerns, while also focusing on associated language-skill improvement. Sensory-rich activities may include integrating an obstacle course or swinging into therapy sessions. For many children, including these types of activities can help curb behavioral issues and achieve speech and occupational therapy goals.
Collaboration between school staff is often crucial to the success of children with an IEP. Speech-language pathologists and occupational therapists co-treat to deliver more comprehensive care. School counselors facilitate communication between families, teachers, and specialists, including SLPs, OTs, and classroom aides.
Through this collaboration, speech-language pathologists, occupational therapists, and school counselors — along with the family — can help children make significant strides in their education and life skills in elementary school and beyond.