NYU Steinhardt Now Accepting Applications for Speech@NYU, a New Online Master of Science Program in Communicative Sciences and Disorders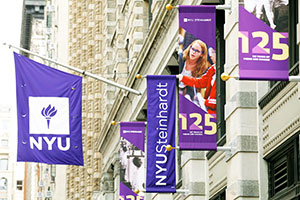 NYU Steinhardt is now accepting applications for Speech@NYU, an online master of science program in Communicative Sciences and Disorders. The innovative program combines live online classes of no more than 15 students, self-paced course work, and clinical practicum experiences located at field sites near each student's community, enabling aspiring speech-language pathologists across the country to earn an NYU education without having to relocate. The first class begins in September 2016.
Speech@NYU is accredited by the Council on Academic Accreditation (CAA) in Audiology and Speech-Language Pathology of the American Speech-Language-Hearing Association (ASHA). NYU Steinhardt's Department of Communicative Sciences and Disorders was one of the first to offer advanced degrees in speech-language pathology and audiology in the New York area, and its on-campus master of science program in Communicative Sciences and Disorders has held continuous accreditation for over 30 years.
Designed and delivered by NYU's expert faculty, Speech@NYU offers the same curriculum as the on-campus MS program and takes a collaborative approach to providing aspiring speech-language pathologists with an interdisciplinary professional education. Through a range of diverse elective courses, Speech@NYU provides students the opportunity to personalize their education based on their interests and goals.
The online MS program in Communicative Sciences and Disorders consists of 48 graduate-level credits, which can be completed on a full-time or part-time basis. For applicants without a background in speech-language pathology, all 14 credits of foundation courses are offered online through the program. Speech@NYU offers three start dates per year – in January, May, and September – and admissions decisions are made on a rolling basis. The priority deadline to enroll in the first cohort in September is June 20, 2016.
For more information on Speech@NYU, please contact an admissions counselor at admissions@speech.steinhardt.nyu.edu or 888-698-0462.